Gastronomy
Events, bars, restaurants
Mallorca is a land of invasions. For centuries it was torn between Catalan, Moorish, Castilian and Italian royal houses. The Mallorcan always knew how to adapt. When asked if he would like a cup of coffee, he replies: "És igual", so "is the same to me". Of course it is not, but in any case you have to interpret for yourself whether that means yes or no at this moment, and the situation is saved, nobody loses face.
Mallorca is also adapted to its gastronomic habits. Culinary influences come to be absorbed and integrated, but are then repelled when needed (or not needed).
Here we would like to introduce you to some of the gastronomic establishments we recommend, from supermarkets and weekly markets to patisseries, cafés and restaurants. But beware, not all are excellent, and many may have changed chefs or owners after a season and now offer completely different standards.
What is a "Pa amb oli"?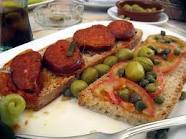 Pa amb oli literally means bread with oil. One or two slices of Mallorcan farmhouse bread are drizzled with oil, salted and covered with tomato slices. This is the basis. Then, depending on your wishes, you can add cheese, ham (Parma ham: "Pernil salad" or "Jamón País"; cooked ham: "Jamon York") or whatever (sobrasada, sausage, etc.). Sometimes olives are added as a side dish or sea fennel, and sometimes salad. The dish cannot be eaten by hand, so it is usually served with cutlery. New-fashioned variations are allowed and desired, in the last years also so-called Pambolierias opened, which dedicate themselves only to this mallorquin speciality. In Catalonia, by the way, there is something similar, the Pa amb Tomàquet, bread with tomato; however, the bread is grated with the particularly fruity tomato cut in two halves, and only then salt, oil and the topping are added.
Ensaimada
The typical Mallorcan Ensaïmada is a sweet spiral-shaped pastry that is usually sold in a ugf. 40cm diameter circular shape (or larger, depending on the occasion) or in about 20 cm diameter as an individual pastry. The name Ensaïmada is program: it is a fermented dough made of flour, yeast, milk and egg, which is spread very thinly and, after being spread with lard (saïm; ensaïmada means "covered with lard"), is rolled up and then spirally folded. The leavening agent here is yeast and lard: the dough itself rises because of the yeast, but the rolled up layers of dough separate when the lard starts throwing bubbles in the oven heat. The ensaïmada is then sprinkled with icing sugar (if you want to take it with you on a crack, add the icing sugar in a sachet because the fat would absorb it and make it appear glassy; before consumption, the ensaïmada is then decorated with the icing sugar).
There are numerous recipe variations, for example ensaimada with sobrasada (the Mallorcan paprika sausage) or with apricots (juicy, juicy!). In addition there is the ensaïmada filled with vanilla cream, cream or with Cabello de Ángel, angel hair, a kind of pumpkin jam.
Supermarkets
SYP-Eroski, Artà. Just follow the entrance of the village to the centre and at the corner where you have to turn right or left you will find the small supermarket SYP. Not necessarily beautiful, but you can buy basic food there, everything else maybe in smaller shops in the area.
Patisserie
Forn de Can Pere, Artà. Delicious pieces, Mallorcan pastries. Coffee and drinks are also served here.
Forn Nou n'Amer, Sant Llorenç (San Lorenzo), on the main road, coming from Palma on the right side at a corner. Here we still bake in a stone oven and with wood, unfortunately sometimes at too high a temperature, so beware. Pudding particles, apricot ensaimada, ensaimada with sobrasada (the Majorcan paprika sausage), and also excellent salty pastries (cocas: a kind of pizza dough covered with paprika). Empanadas (meat particles). Should you have tried everything.
Restaurants
Can Jaume
Carrer Cristofol Ferrer Pons, 13 Artà. Tel.: 0034 646296515. Excellent Mallorcan cuisine.
Sa Tafona de Son Fang
Carretera Artà - Ermita de Betlem Kilometer 1,5. Artà. Tel.: 0034 971829591. Country restaurant. Very popular with locals and newcomers and only the best reviews. Sa Tafona de Son Fang
Forn Nou, Carrer del Centre, 7, Artà . Tel. 0034 628252737.
The café Forn Nou is located deep in the heart of the old town of Artà Café Forn Nou. The old bakery was lovingly transformed into a hotel with an adjoining café and restaurant. The only 6 rooms are occupied mainly by German guests, now and then also Spaniards from the mainland, French or Italians join in. The cozy main room of the café, decorated with pictures of Mallorcan and European artists, with its rural-modern flair and Art Nouveau elements, serves as a breakfast room in the morning, and villagers often come here to enjoy Jordi's excellent espresso and capuccino and to fortify themselves with a fresh croissant or ensaimada from the baker. At lunchtime and in the evening, the room becomes a restaurant, often populated by foreign visitors, especially in summer - the local guests arrive later in the evening, sometimes from 11 a.m. onwards. Both at noon and in the evening, a comparatively inexpensive and very appealing menu is offered; but if one wants to have the best quality that the chefs of Forn Nou have to offer, one should dine à la carte. The choice is not very big (in the category main courses three meat dishes and one fish depending on availability on the market), but imaginative, high-quality and well composed.
Pizzeria L'Atrio, Artà
You can get a rewarding pizza, also to take away, in the pizzeria "L'Atrio" directly in the entrance of à, in front of the Guàrdia Civil building at the roundabout (you should not park in front of this building, even if it is tempting, the policemen regard this section as a private parking place). It is possible to order pizzas by telephone, in this case you only have to pick them up at the agreed time. Those who eat in the restaurant, however, should not appear too hungry or treat themselves to an aperitif, as the oven is sometimes overwhelmed and the food is left to its own devices. But in return, one gets a delicious pizza. Also the noodle dishes can be seen.
Es Molí d'en Bou
NOW CLOSED, was opened at another location nearby under a new name, Tomeu Caldentey Cuiner. Carrer Lilies s/n, Sant Llorenç des Cardassar. Hobbied, first Mallorcan chef with a Michelin star. Website: http://www.esmolidenbou.es/
Tomeu Caldenteu Cuiner
Paved, expermientell, various menus. In Sa Coma, on the coast of Sant Llorenç. Carrer Liles s/n, 07560. Sa Coma, Sant Llorenç des Cardassar. Website: http://tomeucaldentey.com/
Es Pati
The small restaurant Es Pati ("Der Hof") impresses with its menu. Various affordable surprise menus are offered (4 course menu for 30€ plus drinks, 5 course menu for 35€ plus drinks). Tendency fusion (tomato soup with coconut, guinea fowl breast with algae salad... Es Pati also prepares Take Aways, so you can enjoy the dishes comfortably on the Finca Alzinar. Recommended for those who appreciate variety and small experiments.
Crêperie Sa Bassa Manacor
In the small Creperia you can eat well, fast and inexpensively. Normally you only eat one course, a large salad (for example with chicken breast), or one of the many salty crêpes, some of which are prepared like pizzas. Then one orders as dessert either another crêpe, but this time sweet, or an ice cream. The service is friendly, the restaurant is mostly full because of the quality and the prices. But you can also book in advance.
Ca'n March
Ca'n March belongs to the better restaurants in Manacor, but also to the unobtrusive ones. It is mainly a Majorcan restaurant. The furnishings are according to the local taste. The menu is unpretentious, but the dishes are perfectly crafted. The multilingual staff will be happy to help you choose the right wine. At lunchtime there is an inexpensive menu for 13 €, which includes a starter, a main course, a dessert and a drink. Since the restaurant is located in a small side street, in a relatively inconspicuous building, in addition still in the elevated ground floor, one should select the address well before.
Cafeteria Bar Playa, Costa dels Pins
and Mauri Directly on the beach, with a wonderful view over the bay of the Costa de los Pinos, the pine coast, there is one of the more interesting Italians and fish restaurants in the northeast of Mallorca, the Bar Playa. The tourist hotels in the distance are small and do not disturb. Luigi has juicy pizzas, tasty pasta and other meat and fish dishes. Because the terrace is very wide but not very deep, almost all tables are in the first line, directly at the sea. During the day you can also get delicious coffee and cake here. The trip there is already worthwhile because of the country road that leads there.